Any of you who have have visited our site more than once know that we LOVE making bread & trying new variations! After making our Apple Cinnamon Raisin Rolls with Icing, I thought it would be fun to try these. I remember as a little girl eating pinwheels. Oh how I loved to unravel them & enjoy each bite. Those were the inspiration to this newest variation. And because they are so easy to make, it is fun for the kids to join in and help!
We start with our basic bread recipe. I LOVE our bread machine. I simply add the ingredients & set it on the quick dough cycle; in exactly 36 minutes I have ready dough without any fuss!
Heat oven to 175 degrees
Oil a clean kitchen counter top or a pastry sheet. 
Roll out the prepared dough into a thin rectangular shape (approx 11×14 or larger).
Melt 3-4 Tblsp butter. Pour over & even spread onto rectangular layer.
Mix 1/4 cup Cinnamon & 3/4 cup sugar.
Sprinkle evenly covering the entire dough.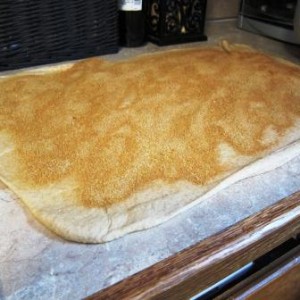 Roll up starting at longest width.
Pinch the long side down the seam so that it will not unravel while rising–but leave the ends open.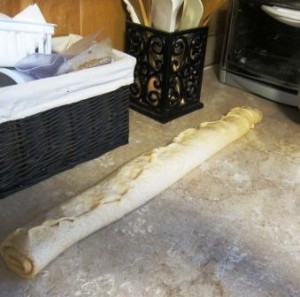 Cut with large non-serrated knife approximately 1 1/2 inches (depending on how large you want them….I prefer larger ones, but if we are feeding many, I will make them smaller to feed more!)
Place on cooking sheet leaving space to rise.  I prefer a baking stone as it heats more evenly and does not burn on the bottom.
Allow them to rise 35-45 minutes.
Without opening the oven (as this will cause it to fall), turn up the oven to 350 degrees.
Cook approx 10-13 minutes when golden brown    (alter this according to how large you cut the original dough…more    time for larger rolls).
Since I use a stone, I allow the rolls to cool on the stone.  It remains an even temp & does not burn. If using metal, you may need to remove rolls to a cooling rack after a few minutes out of the oven.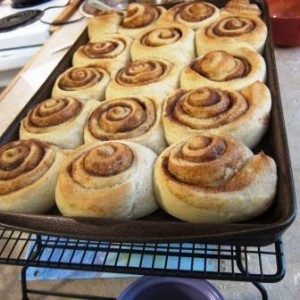 Once completely cooled, Add icing.
Icing:—This is my children's favorite "job." 1 cup confectionary sugar & 2 Tbls water or milk–more or less depending on desired thickness.  (I prefer the icing a little more runny when doing this recipe than others, so you can see the cinnamon!) Can also add 1 tsp. vanilla if desired.
Be careful when you "try" these….it is hard to stop at just one!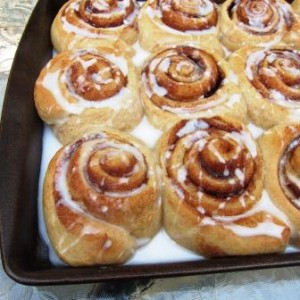 PS – If you like what we are doing, please consider helping us grow our brand-new FB page by 'liking' us on Facebook (see the box to the right of this page). If you do, we'll enter you in our contest!
Related posts: