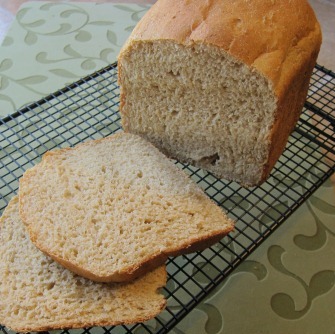 One of the most amazing changes our family has made over the years has been switching to home-made whole wheat bread using flour we grind ourselves. Not only is it so much healthier than stale store-bought bread using flour processed and stripped of most nutrients, but it tastes better too! Here are a few basic recipes. We use the first one for our basic loaf at least every other day (with 4 kids, it goes fast!). Basic Bread Recipe1 1/3 cup water
1/4 cup honey (we use honey granules but you can use regular honey also)
1/4 cup powdered milk
1/4 cup oil
1 1/4 tsp. salt
3 ½ cups fresh ground wheat
3-5 tablespoons gluten (mixed in wheat with a fork, but don't disturb the water. How much gluten you add will depend on the gluten level of the batch of wheat you are using. Not enough and you won't get any rise… Start with 3 on your first batch and work from there.)
2 ½ tsp. Yeast
***Place the ingredients in pan of the bread machine in order starting with the first. After placing the next to last ingredient, the wheat, be sure to put a small trench in the wheat to place the yeast so that it is not touching any liquids.
***I use my bread machine to warm and mix all ingredients as well as make a regular loaf. If I am doing a variation or specialty bread, I simply set my bread maker on the dough cycle and then use my oven to bake the specialty bread item.
***I grind my wheat in bulk, so I freeze my wheat on grinding day, and then get it out of the freezer each day I am making bread so as to ensure it is fresh and contains maximum vitamins & minerals.
VARIATIONS
Garlic rolls:
I use olive oil for the oil
add:
2 tsp. To 2 ½ tsp. Of minced garlic
1 tablespoon of Italian seasoning
optional ½ cup of sharp cheddar cheese
**sprinkle cheese on top of rolls before rising/baking
Cinnamon Raisin Bread:
Use original Basic bread recipe with the following added ingredients before it is kneaded.
½ cup to 1 cup of raisins
1 T. cinnamon
*optional—diced or grated apples add nice flavor as well!
I use my bread machine to mix all the original ingredients plus the raisins. Once mixed and begin to rise slightly, I roll out the dough and cover with cinnamon& sugar mixed. Can also put a small amount of shaved butter slices on it. Then roll up. Pinching edges. I like to make 2 small loaves—great to give as gifts and keep one for family or can make one large. Rise in oven & bake.
Rise: 40-50 minutes @ 175 degrees
Bake 20-25 minutes (depending on loaf size) @ 350 degrees
We bought our wheat-grinder, honey granules, and organic wheat from http://www.breadbeckers.com. They have lots of information on every aspect of bread-making!
If you enjoy our posts, please check out our Facebook page and consider helping us grow it!
Related posts: