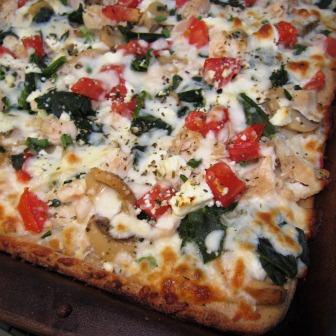 Today, I was inspired by some delicious looking gourmet pizza pictures I passed on the internet.  I decided to give it a whirl with some of our family's favorite ingredients.  The great thing about homemade pizza is that you can add or take away whatever suits your fancy.
Start with your favorite Pizza crust.  My family likes homemade wheat crusts, but you can do whatever is easy for you & on hand.  I have also used my bread machine on the dough cycle just using our basic bread recipe http://amorefieldlife.com/2012/01/15/basic-bread-recipe/.  I roll out the dough on a baking stone and cook at 425 degrees for approximate 5-7 minutes.
While the dough is pre-cooking, combine the following ingredients together for the cheese sauce base.  Put 1 Tblsp butter in small saucepan over medium heat.  Once melted, add 1-2 tsp of minced garlic.  Let brown for about 30 seconds, turning over several times.
Add 1Tblsp flour & stir.  It will be clumpy, but mash it with a fork.
Slowly add approx. 1/3 cup of milk and stir.   Add 3/4 cup grated parmesan cheese and continue to stir.   Please note, you can add more or less according to your taste.  Sauce will thicken as it boils, but remember to stir constantly.  If too thick, add more milk.  If too thin, place 1 Tblsp corn starch in small container.  Add a small amount of cold water and stir until smoothly combined.  Slowly add a small amount of this mixture to cheese sauce and stir.  Continue to add until consistency desired.  Can also add extra Parmesan cheese if desired.
Spread prepared cheese sauce over pizza dough to desired thickness.  (I had a small amount left over, because I placed a thin layer. )  Then cover with your family's favorite ingredients.  Some of ours that we used tonight included:
1 can cooked chicken
2 green onions
sliced mushrooms (canned or fresh)
1 fresh diced tomato
1/3 cup (or more) feta cheese
1/3 cup frozen spinach (broken in small pieces)
1-1 1/2 cups mozzarella cheese
1 tsp Italian seasoning
Return to oven @ 425 and bake 10-13 minutes until cheese melted & golden brown.
Get ready for yummy pizza without the outrageous price!  My family gobbled it up and asked for more!!  Hope you enjoy!
Related posts: