I think we can all agree that hot dogs aren't the most healthy meat to have for dinner, but sometimes it's just fun to eat a big thick all-beef Ballpark Frank. Surround it with a freshly baked whole-grain 'bun,' and you have something that will not only add nutrition to your meal but will make it taste better too (plus, if you use freshly ground nutrient rich whole-grain, remove some of the guilt!). These are better than corn dogs and a lot less greasy!
For these, we use our basic bread recipe found here:
http://amorefieldlife.com/2012/01/15/basic-bread-recipe/
You can use regular flour also. Put it in the bread-maker on the dough cycle. When complete, wrap the hot dogs with the dough in any style you wish. Add cheese and Italian spices on top, and bake at 350 for 30 minutes or until brown. Dip in ketchup and/or mustard, and taste pure hot dog goodness!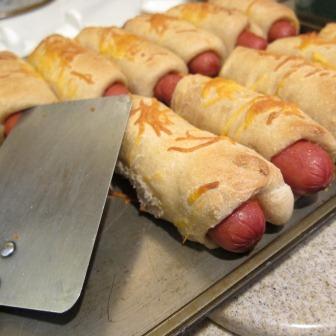 Related posts: