The book of I Samuel tells how a Godly woman, Hannah, played an essential role not only in the upbringing and dedication to the Lord of one of God's greatest prophets, Samuel, but even in his very existence. While the latter fact might seem obvious (what mother doesn't have a role in her child's existence?!), God heard the pleading prayers of a woman suffering from the pain of a closed womb, and chose to bless her with Samuel and four other children.
Jochebed saved her infant son's life by disobeying the rulers of her day, setting him adrift in the Nile so he would be found by Pharaoh's daughter. 'Volunteering' to nurse and raise the boy for her, Jochebed was able to not only guarantee safety for Moses, but a position of power and influence as well, all the while raising him for the Lord. As a result, her son helped free an entire nation from slavery.
Mary, mother of Jesus, endured the humiliation of a pre-marital pregnancy to bring the Savior of the world from her womb, then protected Him at all costs, even at one point fleeing to Egypt to escape King Herod's murderous intent. She loved and nurtured Him while He grew, mourned him when He died, and worshipped Him when he rose again.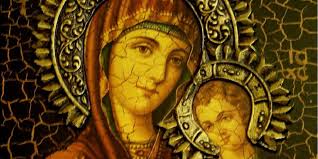 From the dawn of time, mothers have played a crucial role in the development of every single one of us. They keep us safe in their wombs. They protect and nurture us when we are small. They help guide us along the path of life as we mature, and give us unconditional love and support throughout our lives. Since we are all somebody's child, for better or for worse, mothers have always critically shaped their cultures. Indeed, though society historically (until very recently) has been called a 'man's world,' that terms is a gross mischaracterization. Men may do the heavy lifting, but it is and has always been the women who truly wield the hammers that forge civilizations.
While everyone should certainly be equal under the law, as they are under Christ, today's culture tells women that success lies in whatever outside career path they have chosen. In seeking 'equality' with man, far too many have neglected the far more important roles God gave them, preferring instead the vacant mirage of 'career success.' Instead of permanently shaping our society for the better by prayerfully and purposefully raising obedient, healthy, strong and independent children, we let daycares and nannies do it instead, picking up a bag of fast food for dinner on the way home.
Please do not misunderstand – The spirit of this post is not meant to judge. To be sure, not every career woman is a bad mother, and not every mother who is able to spend more time with her kids is a good one! Sometimes family decisions are made out of economic necessity, a sad fact which is fodder for an entirely different (and lengthy) post. But, given the horrible state of today's kids, the rampant disobedience, pampering, disrespect, and overall arrested development, it is clear that we have a generation of children who are hurting.
The watchmen have left the wall. The women have left their hearths. The State is raising an entire generation of children who not only won't know who the Founders of this nation are and what they did, but why freedom, real freedom, is important at all.  When they are old, I shudder to imagine the dark places they will take our civilization.
I'm not saying every mother should quit her job. What I am saying is that mothers should make every effort, within the parameters of their situation, to reclaim their God-given role, to step back up on the lofty podium from which they have been summarily ejected. The most important thing that you will ever do, more important than starting that business, more important than winning that case, more important than that next promotion, more important than anything else you do in your life, is nurturing, raising, teaching, encouraging, and inspiring your children. How well you do that could very well mean the fate of our world.
"Strength and honour are her clothing; and she shall rejoice in time to come. She openeth her mouth with wisdom; and in her tongue is the law of kindness. She looketh well to the ways of her household, and eateth not the bread of idleness. Her children arise up, and call her blessed; her husband also, and he praiseth her. Many daughters have done virtuously, but thou excellest them all. Favour is deceitful, and beauty is vain: but a woman that feareth the LORD, she shall be praised."  –Proverbs 31: 25-30
Related posts: