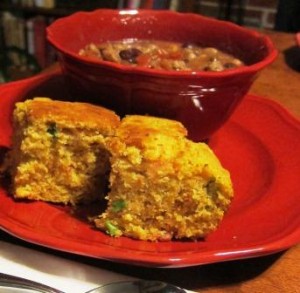 Being a bread lovin' family living in the South, we are REQUIRED to love cornbread! Well, maybe that is a little strong, but it sure does seem to be common 'round these parts. We Morefields love to find any excuse to make homemade cornbread!
I'll give our basic cornbread recipe and then some optional add-ins we really enjoy. For the cornmeal, we love to grind our own. This sounds more difficult than it actually is. We use the same grinder for our wheat, and grind popcorn kernels for cornmeal. You can set your grinder for fine or course. I usually grind our cornmeal fine just like our flour. We grind cornmeal in bulk and keep it in a container in the freezer so it is quick & easy on cold winter nights especially.
I use a large recipe for our family of six, but you could certainly half this and use an 8×8 pan..
Basic Corn Bread Recipe:
Pre-heat oven to 425 degrees, and grease 9 x 13 baking dish
In large bowl, blend together the following:
2 cups whole wheat or regular all purpose flour
2 cups cornmeal (home ground or store bought)
4-6 Tbsp. organic cane sugar
2 Tbsp. Baking powder
1 tsp. Salt
In another bowl mix the following:
4 beaten eggs
2 cups milk
½ cup oil (or melted butter)
Add the wet ingredients to the dry ingredients & stir just until mixed (will be lumpy). Gently stir in any or all of our family favorite options:
1 fresh tomato diced in small pieces
2 cut green onions
½ cup frozen sweet corn
2-3 Tbsp. organic salsa
Diced jalapeno peppers (for those spicy palates – not mine!!)
Pour into the greased 13 x 9 pan. Bake for 20-30 minutes. Be sure to check the center with a toothpick to see that it comes out clean.
Enjoy with your favorite southern-style food. We had homemade pinto beans one evening and then used the leftovers for homemade Chili the next night. We enjoyed cornbread two nights in a row using all of our family favorite add-ins. Another great bonus is avoiding all the questionable ingredients that come with using instant store-bought cornbread mixes!
Be sure to keep your leftover cornbread covered in the fridge as the add-ins cause moisture, so it will spoil faster. Around our house this is never a worry, because we eat it so fast.
Related posts: