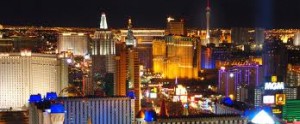 A couple of weeks ago I went to Las Vegas for a business conference for four nights. In all our ten years of marriage, until then, Kim and I had never been apart more than two nights, and that only once. As the time approached we each had quite differing feelings about this trip. For some odd reason the prospect of taking care of four little kids for five days and four nights, alone, didn't appeal to her. Sure, she'd miss ME and all that, but let's face it, she would have never had that many kids without me – in more ways than one! Our marriage and our parenting is a team effort, and when one member of the team is gone the other one feels it tremendously.
Me? I was looking forward to the trip and, quite honestly, feeling a bit guilty about it. The prospect of five days and four nights in Las Vegas totally behaving myself (of course) but, yet, enjoying sights and sounds that didn't involve spilled drinks, grimy hands, snotty noses, and the various and constant noises that come with having four little ones (three of whom are girls so the pitches around our place can get pretty HIGH). Not to mention the… WORK!! Our older ones are helping more and more, but one can never underestimate the endless work that goes with raising children. Sure I felt bad that I was leaving all that to Kim (really, I did… really!), but I was still guiltily looking forward to some peaceful 'away' time.
And so, for that week I was for all intents and purposes a single man, responsible only for me, myself, and I. And truly, it was a GREAT week! I enjoyed spending time with my colleagues, getting to see David Copperfield live, enjoying the sights and sounds of that colorful, wonderful city in the middle of the desert. Sure I would have loved for Kim to have been there with me (the kids, eh… not this trip!), but since that wasn't an option for us I still had as good a time as I could have had.
It is said that absence makes the heart grow fonder. For us, even for a reasonably short trip like this (ask Kim and she'll say it was FAR from short!), that is certainly true. Each day we would talk and text, say how much we missed each other and how much we couldn't wait to be together again. We would say good night prayers over the phone with the kids. Stepping out of our lives physically for a time doesn't mean we step out mentally. Each evening I would think about what Kim and the kids were doing at that time. I missed making them wash those grimy hands, wiping those snotty noses, playing basketball with Nathaniel, watching Abby ride her bike with no training wheels, reading to Hannah and Grace as they fight each other for position on my lap.
When my plane finally landed and I walked through the gate that Friday, the sight of four beaming children (who pretty much tackled me as soon as they saw me!) and a smiling wife with a small tear in her eye was the a sight far more beautiful than the Vegas strip.
Home – there's no place on earth like it. My short trip was fun and exciting, and I would do it all again even though I missed my family and they missed me. I don't know how our troops do it, being away from their families for months and years at a time. I don't know how professional musicians, athletes, and routine business travelers do it either. I'm certainly a homebody, but there's nothing like time away to reflect and appreciate what you have. No matter the reason or the length of the absence, having someone to come home to is certainly one of God's great blessings.
Related posts: