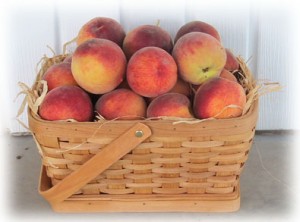 With harvest season fast upon us, farmer's markets and other venues are filled with fresh produce just waiting to be snatched up at bargain prices. Baskets of peaches, apples, green beans, and other locally grown bounty are available at often a fraction of their off-season price. But even when you pick up that giant basket of peaches from the local farmer's market, get it home, eat a few over the next couple of days, maybe make a peach cobbler or two, often a significant portion of the contents of that basket will spoil before you can possibly use them, wasting the entire value you got by buying the peaches in bulk in the first place. This is just one of many reasons why food preservation is a skill every family should have in their arsenal!
When most people think of food preservation they probably think of canning and, while canning is has its place, we'd like to introduce you to an awesome, easy way to preserve fresh fruits and vegetables for the long haul that you might not have thought about – dehydration! As for the 'why,' check out this article I wrote for NaturalNews.com – Ten reasons dehydration is a great tool to preserve and store food.
As for the 'how,' we'd like to cover that today. Since we're already talking about peaches, let's dehydrate some peaches, shall we? First of all, if you're going to get into dehydrating to any extent, a good dehydrator is a must. By 'good' dehydrator, sorry, we don't mean the $40 WalMart special. You're going to need to invest a little money, but it's worth it. A cheap dehydrator will take much longer and will somehow manage to over-dehydrate and under-dehydrate pieces of the same batch. Trust us, it won't go well and you won't stick with it, so if you're going to do it, do it right the first time. From what we have found, the ONLY dehydrator to get is an Excalibur. We got the 9-tray a few years ago, and it has exceeded our wildest expectations – so convenient and easy to use!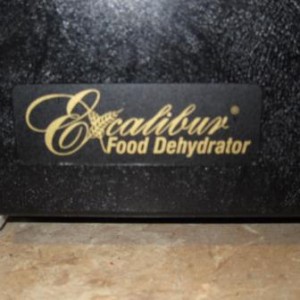 Start with some peaches, around 5 or so at a time – clean and scrub them well with a light abrasive to remove any pesticides and peach fuzz. Pour 4 cups of water into a glass bowl. Mix it with 4 teaspoons of ascorbic acid solution (Fruit Fresh – available in the canning section of any store). You could also use lemon juice instead of ascorbic acid.
Take a knife, cut cross-seam around each peach (going that way will help keep the seed from splitting – you don't want the seed to split because then you'll have a time using a spoon to remove the seed residue from the inside). Remove the seed.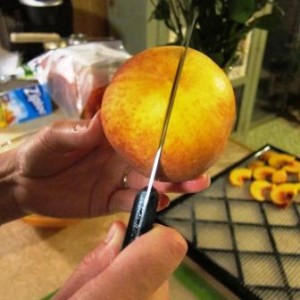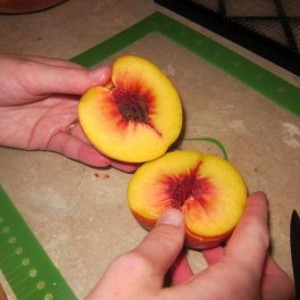 Lay each half down on the cutting board. Slice each half straight down, about 1/8 inch wide or slightly larger (to taste – the smaller the slice, the crunchier they will be).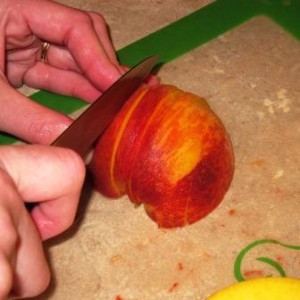 Place the slices in the water / Fruit Fresh solution for several minutes. There will be enough room in the solution for 4-5 peaches to soak at the same time.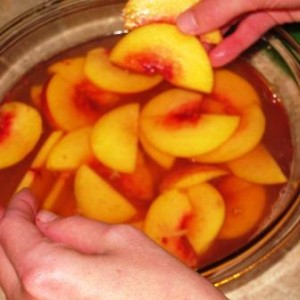 Take the slices out of the solution, drain for a few seconds, then arrange them on the dehydrator tray.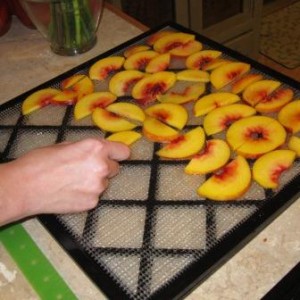 Rinse and repeat until your dehydrator is full. Ours is a 9-tray, so will hold 25-28 peaches at a time.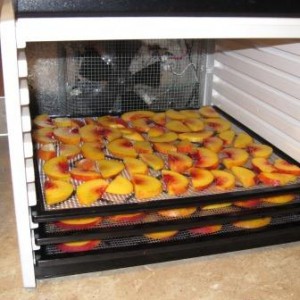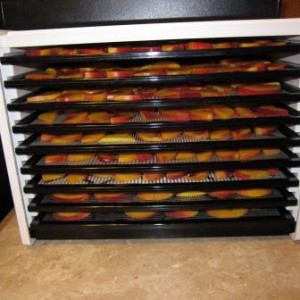 Turn the dehydrator on to 135 degrees for 12-16 hours, depending on the humidity at the time and how dry you like your peaches. Enjoy the smell coming out of the dehydrator – it's better than any plug-in!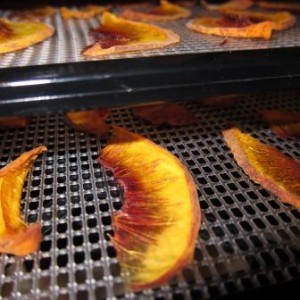 When completed, let cool for an hour or so before storing. For long term storage, we like to put ours in Mason jars with a few oxygen absorbers. We found that about 9 dehydrated peaches will fit in one Mason jar this way – amazing! The peaches can be eaten by themselves, in trail mix, used to make peach tea, rehydrated and cooked, and a variety of other ways. Our kids love eating these. They are great to send to school in baggies – a healthy, inexpensive, easy lunch 'dessert.'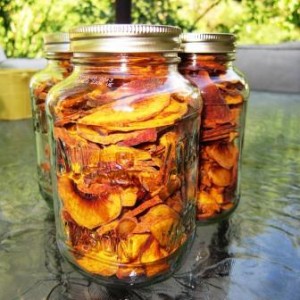 Related posts: