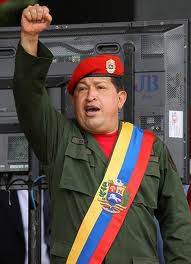 Politically and philosophically, I'm all about liberty and freedom. I really am – just not for my kids. For them, I'm a ruthless, totalitarian dictator (at least that's how I imagine they must think at times). I make Hugo Chavez look like Mister Rogers. And my wife, the Eva to my Hitler, is just as bad.
Consequently, our kids live in a 'police state' that's probably pretty close to a prison if you think about it. Their every move is monitored. Everything they see, eat, and touch is thoroughly screened for contraband. They aren't allowed 'visitors' without approval. Any violations of the rules results in swift, stern punishment. And heaven forbid anyone even THINK of escaping. Yet our kids, prisoners though they may be, are truly, fully happy (they seem like they are anyway – ask them when they get out of the house…).
You see, home, during the formative years, is supposed to be a place where the restrictions, the discipline should be greater than at any other point in life. We can't yet fly while we are children, but home is where we grow our wings. Today, this has gotten all out of whack. From temper tantrums displayed on YouTube for the world to see to parents desperate enough to go on reality TV shows so some 'nanny' can show them how to make their children behave, we are living in a world that's forgotten how to train its children.
Historically, children learned to obey their parents first, in all things, without question, backtalk, or rebellion. Failure to do so resulted in immediate consequences. By learning to obey our parents, a legitimate, God-given authority in our lives, we learn to properly obey others in authority. There was once a time when failure to obey a teacher resulted in double-punishment at home. Now, it's common for parents to believe their child over the teacher, and even berate teachers when things don't go the child's way.
And it doesn't get any easier. When children reach adulthood there are other authority figures in their lives they will always have to obey – bosses at work, government, laws…
Here we have a real paradox. On the one hand we live under a government that passes more and more laws, thousands upon thousands of them, making felons of almost anyone who unknowingly transgresses some arcane regulation, tossing people in jail longer for a paperwork violation of some sort than for rape and murder. We have the highest per capita prison population in the world – higher than China, higher than Iran.