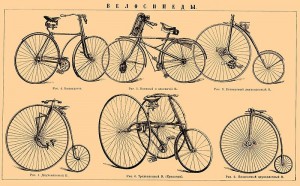 One of the greatest gratifications as a parent is teaching your children to do something they didn't think they could do. Sometimes that extra 'push' can be too much, driven by the too-lofty expectations of well-meaning parents. But sometimes, when it's something you KNOW they need to learn, that you know they will enjoy when they learn it, that push can be a good and necessary thing. Such is the case with that childhood rite-of-passage we all had to endure – learning to ride a bike.
Last year I taught our oldest two, Nathaniel and Abby, how to ride their bike without training wheels. Nathaniel was 6, probably a little older than some kids are when they learn, but in November 2010 we made the move to a house with a decently sized flat and wide driveway, a significant improvement over the moderately steep gravel one we had before. So with bike-riding actually an option, I went to work teaching our kids – first Nathaniel, then Abby using the same technique I used for Nathaniel. I thought our blog-readers with little kids or grandkids might be interested to see how our family did it. I'm sure there are other ways, but this is what worked for us.
4 tips to teaching your child how to ride a bike:
1.) Choose a bike that's age appropriate, even a little smaller than what they could ride.
Be sure the balls of their feet can easily touch the ground on both sides. This is really the most important thing to do. When I learned how to ride I remember having to climb a step-stool just to get on. Frankly, it was terrifying, and I remember falling several times before getting the hang of it. Today they make very inexpensive bikes for all ages. Kids will still fall of course, but not as often or as far. Surprisingly, children are much more open to learning when there isn't quite so much pain involved in the process. :>)
2.) Don't leave the training wheels on too long, if at all.
If you leave them on at all leave them on long enough for them to get the hang of how the pedals work to propel the bike forward, how the brake makes it stop, and how the steering works. Anything beyond that and they become a crutch. Lots of praise and positive peer pressure worked for us here. Once Nathaniel learned to ride correctly (receiving MUCH praise from us during this process – see point 4) Abby asked for her training wheels to be removed so she could do what he was doing.
3.) Start down a very moderate slope.
Stay behind them and hold their back, letting them know you'll be there as long as they are uncomfortable but you want them to pedal and steer the bike. Let go occasionally, then hold them again if they start to get out of balance. You will keep them from falling a lot during this process, but they MUST feel the sense of balance and propulsion for themselves. At first they'll go a few pedals, then more, then more after that. You will both know when they start to get it. It's literally like a light bulb exploding over their head – very exciting!
4.) Give them LOTS of praise.
Negative reinforcement doesn't work here, but I did push Nathaniel a little at first by saying things like, "Little kids use training wheels. Do you want me to show you how to ride like a big kid?" (Kids are real suckers – they fall for stuff like that.) Positive reinforcement is what works best. Make a HUGE deal over even a second or two of pedaling on their own. That, combined the peer pressure of their siblings and/or friends doing it, will usually be enough to make them try hard enough to succeed.
There's more work to do even when they 'get it,' but it's not hard to figure it out from there. Riding a bike is, well, like riding a bike! When kids learn to ride a small bike, they can ride any size at all,  as long as they can reach the pedals. I don't recommend it, but Nathaniel can and has ridden a bike much bigger than recommended for his age. I don't let him do it unless I'm there, and he does get a little nervous, but the point is he has the skills to do it.
This worked on Nathaniel at 6, but the real test was the fact that the same techniques worked on Abby at 4 years old. It's an awesome feeling to see that little girl (and our big boy!) just peddling around the driveway like pros. Today bike-riding is something they love to do every time they get a chance. Even cooler, both kids have come and thanked me for teaching them how to ride their bike 'without training-wheels.' They know the little 'push' I gave them at the beginning was something they may not have liked as much then, but are glad for now. That's a lesson we have repeated and will continue to repeat as they learn other tough lessons on their way to growing up.
Now, if I could only teach them how to swim!
Related posts: