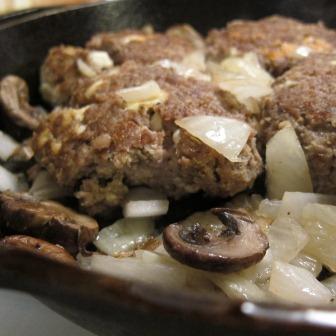 This dish takes plain ole' hamburger meat to an entirely different level. It's so juicy and full of flavor that once you've tried it you'll probably never want to go back to regular hamburger steaks again!
Here is what you'll need:
1 lb hamburger meat (90% lean)
½ cup oatmeal (quick oats)
½ cup feta cheese (or more, to preference)
1 tsp Italian Seasoning
1 medium onion
4 medium mushrooms (or as many as you would like!)
Pinch of salt, pepper, and basically any other spice you would like on a hamburger steak.
1 egg (optional – helps hold it together if you want to grill)
Hand-mix the meat with the oatmeal, cheese, and spices. Hand-form patties to taste. We cook it on an olive-oil greased iron skillet, medium heat. Chop up the onions and slice the mushrooms. Place on the skillet between the patties. Keep a close eye to make sure the patties don't burn before the first turn. When they are good and brown on the first side, turn once, stir onions and mushrooms around. The juices will mix, allowing the patties to cook until complete after the first turn (so you should only have to turn them once). Remove when cooked to taste.
Enjoy! We love to cook this with parmesan baked potato fries and home-canned green beans, but it'll go great with almost anything.
Related posts: