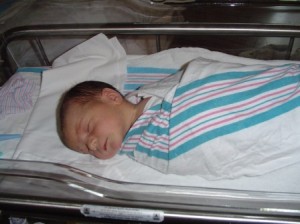 It's hard to believe that seven years ago today our son Nathaniel was born. Before that, we had went through more than a year of wondering if we would even be able to have children, resigning ourselves to the possibility that God might have other plans. While that would have been OK, we are so thankful that His plans for us included four wonderful kids, starting with Nathaniel, our firstborn.
I had always been told that watching your child being born is unlike any other experience, but until seven years ago I never really understood. For centuries writers and poets have tried, but no words could possibly measure up, could possibly describe the feeling of seeing that little bundle of promise for the very first time, knowing that that tiny person is a piece of you, of your wife, of the love that you both have for each other. And not just that, but a piece of each of your parents, and their parents before them, and on and on down the line, a link in a grand ancestral heritage. It is the closest thing we will ever see to magic.
And now, in barely a blink, our son has turned seven. Already more than a third of the time we will have to raise him has passed, and there is still so much we need to teach, so much we want to do with him. Everyone says they grow up so fast. It's cliché', but I think we're finally starting to understand the truth in that. It's so easy to get caught up in the everyday tasks of living and neglect the 'little' things, things that get lost in the shuffle like reading to your kids, playing with them, teaching them, training them 'in the way should go.' God has given our kids to us for a short time, and for a specific purpose. Too often, for many 'good reasons,' we neglect that purpose.
Since today is his birthday I asked Nathaniel where he wanted me to take him for breakfast before school. He chose McDonalds. OK – we're all about balance, and even Mickey D's can be utilized for convenience in moderation – so I took him there. He picked out the big breakfast, the pancakes, hash brown, biscuit, sausage, and scrambled eggs. I got one too. By the time we finished eating (we didn't eat it all, but most of it) the food wasn't sitting well on my stomach. We just don't eat it that often. When we got in the car Nathaniel told me, "Dad, I know it's fun to eat at McDonalds and it tastes good going in, but I never feel good after, do you?" This was one teachable moment I didn't miss.
To the boy who loves to smile, who loves his Mom and Dad and sisters more than anything in the world, to the boy whose imagination takes him to the moon and back, to the boy who always asks questions, is always learning, to the boy who likes Legos, knights, swords, He-Man, and wearing camouflage because 'Grandpa wears it,' to our very favorite son (our ONLY son!)  …Happy Birthday Nathaniel! We love you!
Related posts: