I envy my son and other kids his age, particularly if they have a bent toward the more, shall we say, fantastical areas of fiction. And Nathaniel does, given that he inherited half his genes from me and the other half from his mother, who enjoys it almost as much as her nerd husband. Starting now, for instance, with the release of the latest Hobbit film he can watch the entire Tolkien series from The Hobbit to The Lord of the Rings without missing a beat. Unlike our generation, he can watch all six Star Wars movies, all six, without having to wait YEARS for each movie to come out. (Yes, I realize they are making three more, but those are just icing on the cake!)
It's not just movies, of course. An avid reader like his Dad, he gets to discover amazing, fantastical new worlds for the first time, pictured in his imagination in vivid, three-dimensional form. I envy him because I have fond memories of being his age and of discovering these worlds for myself. Sure I had to wait years to see Empire Strikes Back, but I made up for it by devouring books, and even if I don't remember every detail that scrolled across those pages, I'll never forget the sense of wonder, of amazement, of pioneer-like discovery I felt inside when I visited those places in my mind for the very first time. You only get to go through the wardrobe into the snowy icescapes of Narnia once. You can only travel with Bilbo through Mirkwood forest once. You only get to gasp and recoil in disgust when you find out Vader is Luke's father once. It's cool and fun to see it again, of course, but here, as in many areas of life, there's nothing quite like the first time.
The other day I found myself outside passing football with Nathaniel. It was a pretty chilly Saturday afternoon and, although he'll typically take as many tosses as I'll give him and beg for more, old Dad was getting a bit cold, and tired. I had an idea that I just knew would work. "Hey, Nathaniel," I said, "How would you like to go inside and watch another Star Wars?"
"Would I?!" he exclaimed, smiling really big and already tucking the football under his arm to carry inside. Having already watched Episodes IV, V, and I (that's the order we decided to let him watch the series in, with an eventual Return of the Jedi finale to wrap it all up), he couldn't wait for Attack of the Clones. "Dad," he said as we walked in, "Just so you know. You don't have to ask me if I want to watch Star Wars. You can know that I will always want to watch Star Wars."
I smiled. It's pretty cool to have a son who shares your interests. Not every Dad has that, and I'm thankful. But, fantasy and science-fiction have a tremendous appeal to vast segments of society. The books rake in millions. The movies take millions to produce and make billions. They are great stories, to be sure, but there is something about the fantastical that amazes us, that fills us with excitement and wonder. What?
The Greeks, Romans, Norse, Hindi, and other even more ancient peoples have their tales of gods with supernatural powers who meddled in the affairs of men. Nobody knows for sure if King Arthur, or his pal Merlin, ever existed, yet English legends speak of them almost as if they are historical. In this seemingly mundane world where everything is supposedly scientific, explainable, logical, white-washed and sanitary, where all we can hope for is to live and die with as little pain as possible, I think there is something inside all of us that somehow longs for the fantastical to be real. We look to the past for evidence, to the stars for kindred spirits in our journey. Who are we? Why are we here? Where are we going? Is there more to life than just what we can see and feel in front of us?
"He has made everything appropriate in its time. He has also set eternity in their heart, yet so that man will not find out the work which God has done from the beginning even to the end." Ecclesiastes 3:11 NASB
It's so easy to forget that, despite the fact that humans have done a phenomenal job to this point of creating awesome fictional stories, over two thousand years ago something fantastical, something supernatural actually took place, right here on planet Earth. Two thousand years ago, the God of the universe reached out and touched the people He created with something no novelist could ever dream up, a man who was God, a King to save His people from their sins. Thirty-three years later, when Christ died on a cross and the world shook, so did the hold the forces of evil had on this place, on all of us. Despite how ordinary and mundane and non-fantastical our surroundings may seem, there will come a time for us all when the ordinary will meet the extra-ordinary. Thanks to Jesus Christ, if we know Him, our stories are just beginning.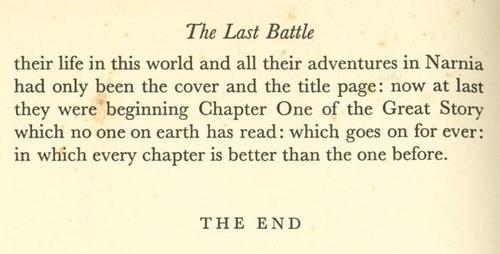 Related posts: